Saturday, February 23, 2019
Apple was the most innovative company in Fast Company's most innovative companies for 2018. This year, Grab is ranked 2nd and Apple is ranked 17th. The top spot goes to Meituan Dianping, a Chinese company that offer multiple service in a platform such as food, hotel stays and movie ticket.
Fast Company stated that Grab is highly rated due to its grand expansion out of ride hailing into food delivery, travel booking and e-wallet.
Anthony Tan, founder of Grab / South China Morning Post
Grab, formerly known as MyTeksi, was conceived when Anthony Tan and Hooi Ling were attending Harvard MBA class, according to South China Morning Post. Uber and Didi Chunxing were the dominant ride hailing companies at the time. Anthony and Hooi Ling founded that passenger safety is a concern and launched Grab to address this issue.
Grab allowed passengers to share the progress of rides with friend or family member.
Grab has fought Uber to lead Southeast Asia's ride hailing market. According to Forbes, Grab is worth over US$10 billion.
In South China Morning Post, Anthony expressed his gratitude to his mother for supporting and investing several millions into the venture, even though his father, the president of Tan Chong Motor dismissed the idea.
Currently, Grab is backed by Softbank, Didi Chuxing, HSBC and Toyota.
Posted by

Dennis
at 1:27 PM
No comments:


Thursday, January 10, 2019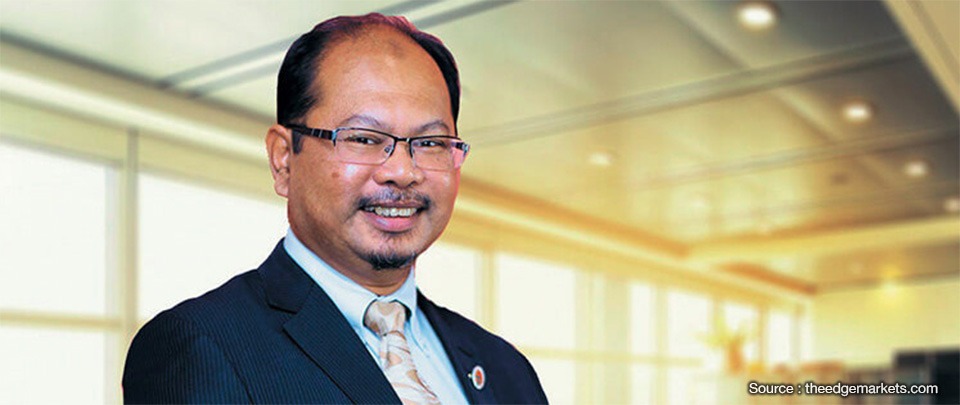 Dr Rozhan Othman (Image: The Edge)
Dr Rozhan Othman was appointed as MyIPO Chairman from 12 Dec 2018. He has more than 30 years of experience in business management, especially talent management. Bernama reported that Dr Rozhan is an advisor to Deputy Prime Minister Wan Azizah. Rozhan has a PhD from the University College of Dublin.
He has published several articles and gave an interview on talent management in BFM (
https://www.bfm.my/ent-rc-the-talent-management-bandwagon-dr-rozhan-othman-human-capital.html
).
Mohd Roslan signing in front of Shamsiah, the former D-G (Image: MyIPO)
Datuk Mohd Roslan Mahayudin was appointed as MyIPO Director-General from 2 Jan 2019. Mohd Roslan was the Director of Enforcement in Ministry of Domestic Trade and Consumerism. He has served the government for more than 31 years.
He has conducted raids on domestic trade, price control and counterfeit products. Roslan holds a law degree from Universiti Teknologi Mara. In 2016, he signed a pledge with 8 online market place to remove the sale of counterfeit software (
https://news.microsoft.com/en-my/2016/11/25/ministry-domestic-trade-co-operatives-consumerism-joins-forces-online-marketplaces-combat-sale-counterfeit-software/
).
Posted by

Dennis
at 6:33 PM
No comments:


State Intellectual Property Office of China (SIPO) is now known as China National Intellectual Property Administration (CNIPA) since 28 Aug 2018. State Administration of Industry and Commerce (SAIC), formerly a separate registrar of trademarks has merged with CNIPA.
In Chinese, CNIPA is known as
国家
知识产权局 (guojia zhisi chan quan ju) which literally means national intellectual property rights administration. The word 局(ju) also means office, a Chinese noun for post office, police station or education bureau. It is believed the abbreviation CNIPA was chosen so that it is distinctive over Canadian IP Office (CIPO).
Xi Jinping pointed out that protection of property rights (chan quan), especially intellectual property rights, is important to create a favorable business environment.
In his address on 29 Aug 2018, CNIPA Commissioner Shen Changyu, the former SIPO Commisioner declared that a number of core technologies with independent IP rights were developed in fields such as telecommunication, aviation, railway and nuclear energy.
In 2017, the number of patent applications is 1,382,000, representing a growth of 14.2%, said Shen. Shen added that there are 67,000 patent enforcement cases, a growth of 36.3%. The number of patent firms reached 1,824 and patent agents reached 16,367.
"IP administration program was successfully carried out in 6 cities namely Xiamen, Qingdao, Shenzhen, Changsha, Suzhou and Shanghai. The program provides a one stop centre for express examination, rights affirmation and financing to support development in key industries," added Shen.
E-Commerce Patent Enforcement and Right Assertion Coordination Center, Zhejiang was setup to enhance IP protection in e-commerce. He proudly declared that Cambodia become the first country in the world to recognize the grant of Chinese patent. CNIPA has signed PPH cooperation with 23 countries, including Malaysia.
Posted by

Dennis
at 5:03 PM
No comments:


Patent Prosecution Highway (PPH) is an initiative to accelerate examination of patent applications if examination work was cleared at a corresponding patent office.

Currently, MyIPO has bilateral PPH agreements with Japan Patent Office (JPO), European Patent Office (EPO) and China National Intellectual Property Administration (CNIPA). If a patent application receives clear examination in JPO, EPO or CNIPA, the examination result can be submitted as a reference to MyIPO for PPH. The reverse is also true, if a patent application receives clear examination in MyIPO, the examination result can be submitted as a reference to JPO, EPO or CNIPA.

PPH was introduced to reduce the work load of patent examiners. We were made to understand that examiners of JPO, EPO or CNIPA would still need to search prior arts in local languages after receiving PPH request.

A similar arrangement was also formed in ASEAN Patent Examination Co-operation (ASPEC) among Brunei, Cambodia, Indonesia, Singapore, Philippines, Lao, Thailand and Vietnam.
Posted by

Dennis
at 3:40 PM
No comments: